Mobil 1 sponsored drivers and teams sprayed a lot of Champagne during August.
Locally, Walkinshaw Andretti United and Mozzie (AKA Chaz Mostert) picked up a second and a third in week one of the Townsville double header & a third and fourth in week two. With three podiums in the six races at Townsville, #25's strong showing has pushed Mostert up to third in the 2020 Supercars Championship – with only three rounds to go.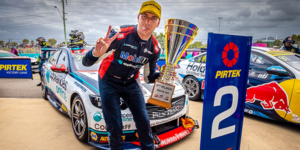 In F1, after an incredible run of six podiums from seven races, Max Verstappen succumbed to an engine issue in his #33 Aston Martin Red Bull racer at Monza forcing him to retire. The week previous in Spa, Max produced a gritty drive to come home third. After 8 rounds Max sits is in third place in the championship.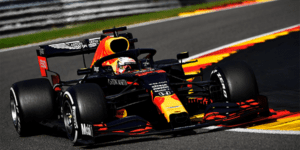 ©Getty Images
With back-to-back wins in this #4 Mobil 1 Mustang at Michigan followed by another win at Dover, Kevin Harvick was crowned the 2020 NASCAR Regular Season Champion. He carried that form into last weekend's first race of the 10 race 'Playoffs' with a win by 0.363sec at Darlington. Go Kev!
After their win at the Michelin GT Challenge (their second in a row), Antonio Garcia and Jordan have extended their lead in the GT Le Mans (GTLM) championship. Their #3 Mobil 1™ Chevrolet Corvette C8.R, is closely followed by the #4 Mobil 1™ Chevrolet Corvette C8.R of Oliver Gavin and Tommy Milner – which is 4th overall in the championship.
Mobil 1 was the official oil of the 2020 Pikes Peak International Hill Climb. With a time of 9:35.490, this year's King of the Mountain title went to Clint Vahsholtz in his Ford Open Wheeler. Clint is a local boy making him the first American to win the annual 'Race to the Clouds' in 15 years.
After winning the Bathurst 12-Hour in February the Mobil 1 Bentley M-Sport racing ceased its 2020 racing operations due to COVID-19. However, Bentley Motorsport have just confirmed they will contest the full 2020 Intercontinental GT Challenge. Rather than ship the M-Sport Continental GT3 around the globe, drivers Soulet, Pepper and Gounon will fly to the four remaining races and drive Bentley Motorsport customer cars. Good luck lads!
At a glance:
Australian Supercars Championship
#25 Chaz Mostert – Walkinshaw Andretti United
3rd Race 19 & 2nd Race 20 at the Townsville SuperSprint week 1
3rd Race 22 & 4th Race 24 at the Towsnville SuperSprint week 2
Currently 3rd in 2020 Championship with three rounds to go
F1
#33 Max Verstappen – Aston Martin Red Bull Racing
3rd Belgian GP @ Spa.
(Styria: 3rd, Hungary: 2nd, Great Britain 2nd, 70th Anniversary 1st, Spain 2nd)
3rd in championship after round 8
NASCAR
Kevin Harvick – #4 Mobil 1 Mustang – Stewart-Haas Racing
3 wins in August, win in the first 'Playoff' race
Leads championship with 9 races left in the 'Playoffs'
IMSA GTLM
Antonio Garcia/Jordan Taylor – #3 Mobil 1™ Corvette Racing
2nd Michelin GT Challenge
1st in championship at end of August
Oliver Gavin/Tommy Milner – #4 Mobil 1™ Corvette Racing
4th Michelin GT Challenge
3rd in championship at end of August
Mobil 1 – official oil of the 98th Pikes Peak International Hill Climb
1st: Clint Vahsholtz, open-wheeler Ford (9:35.490)
2nd: Paul Dallenbach, Dallenbach Special (9:36.181)
3rd: David Donner Porsche GT2 RS Clubsport (9:36.559)
Porsche Mobil 1 Supercup
Spa-Francorchamps Result:
1st: Ayhancan Güven
2nd: Dylan Pereira
3rd: Florian Latorre
Championship Leader: Dylan Pereira
Mobil 1 Bentley Continental GT3
Won Bathurst 12-Hour
Currently leading the 2020 Intercontinental GT Challenge.